The advances in cancer research on next-generation oncology devices and solutions have led to the development of various prognosis and treatment procedures for patients with a wide range of hematological and solid malignancies.
Immunotherapy is one such procedure that has established itself as a key component of cancer treatment. Chimeric antigen receptor (CAR) cells and checkpoint inhibitors (CPIs) are the two key factors that have contributed to this accomplishment.
What are checkpoint inhibitors?
Immunotherapy agents that prevent immune checkpoint proteins such as programmed cell death 1 (PD-1) and programmed death ligand 1 (PDL-1) from attaching to partner proteins are known as checkpoint inhibitors.
Checkpoint proteins on immune cells are responsible for triggering and maintaining immunological tolerance in the tumor microenvironment. PD-1/PDL-1 inhibitors are immune-therapeutic agents used in the treatment of various cancer indications, mostly in the advanced stages.
Figure 1 Role of PD-1/PD-L1 in tumor protection
According to studies, cancerous tumors regularly employ these PD-1/PDL-1 pathways to get beyond the host's defenses. The connection between PD-1/PDL-1 inhibits this binding and prevents the migration of tumor cells, which ultimately kills cancer cells.
Since Paul Ehrlich, a German medical scientist, first proposed the idea of immunotherapy in 1909, it has undergone constant evolution due to increased research efforts aimed at determining the immune system's function in cancer.
Currently, the U.S. has approved seven medications for the global PD-1/PDL-1 inhibitor market, and several research activities are now underway, piquing the interest of both commercial and university research institutes.
According to the BIS Research report, the key trends in the global PD-1/PDL-1 inhibitors market include broadening the therapeutic range of PD-1/PDL-1 inhibitors by bringing more and more indications under the treatment scope and a combination of treatment strategies to maximize the therapeutic potential of these agents.
Find more details on this report in this FREE sample.
As the research progress, the PD-1 and PDL-1 inhibitors are showing more and more efficacy in the treatment of different types of cancers. A few of the latest findings in the life sciences and biopharma research for cancer treatment are discussed further in the article.
PD-1/PDL-1 Blockade and New Therapeutic Approaches in Cervical Cancer
Cervical cancer (CC) is the fourth most common cancer in women worldwide in terms of incidence and mortality. Despite the development and application of preventive vaccines, as well as efficient screening and early detection techniques, this disease still imposes a significant burden on people around the world.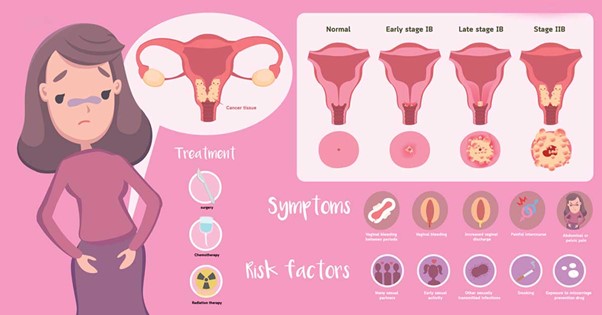 Figure 2 Symptoms of cervical cancer
Chemotherapy, surgery, and radiation therapy are the standard therapies for cervical cancer. Radical surgery and radiation therapy can produce an excellent prognosis for cervical malignancies in their early stages. However, the efficacy of the available treatment options is inadequate for treating advanced and recurrent cervical malignancies, which leads to lower survival rates. Therefore, to treat advanced and recurrent cervical malignancies, it is vital to look for novel therapeutic approaches.
In recent years, immune checkpoint inhibitors (ICIs) have advanced the area of cancer immunotherapy significantly. To increase the ability of immune cells to fight cancer, ICIs are used to block negative immune cell regulatory axes such as PD-1 and its ligand PDL-1, which normally reduce antitumor immunity when they are activated.
It has been found that PD-1 blockade triggers antitumor responses by increasing the activity of effector T cells and natural killer (NK) cells in tissues and tumor microenvironments, decreasing the number and suppressive activity of Treg cells, and abolishing the inhibition of kinases and recruitment of tyrosine phosphatases that are connected to T cell activation.
Due to its safety and antitumor effects in the clinical trial on advanced cervical cancer, pembrolizumab, one of the ICIs, was approved by the Food and Drug Administration (FDA) in 2018 for the treatment of advanced PDL-1 positive cervical cancer. Additionally, it is the sole immunotherapy medication that has been authorized to date for the treatment of cervical cancer.
Although PD-1/PDL-1 inhibition has extended patient survival and demonstrated clinically meaningful efficacy, the response rate for cervical cancer patients is less than 30%.
Therefore, a growing body of research has indicated that approaches combining PD-1/PDL-1 inhibitors with various immunotherapies or biotherapies may improve the antitumor efficacy in human malignancies.
Possible Treatment for Merkel Cell Carcinoma with Dual Checkpoint Inhibitor Therapy
With a high rate of metastasis and unfavorable prognoses for patients, Merkel cell carcinoma is an uncommon but aggressive form of skin cancer. Immune checkpoint inhibitor monotherapy targeting anti-PD-1 and anti-PDL-1 is the current gold standard of care for patients with recurrent, unresectable, or metastatic disease, but only about half of the patients respond to this treatment.
A new dual checkpoint inhibitor therapy with or without stereotactic body radiation therapy is being tested at two U.S. institutions, including Moffitt Cancer Center. Along with a presentation at the European Society for Medical Oncology Congress, the phase 2 clinical trial's findings were published in The Lancet.
Fifty patients with stage 4, recurring, or unresectable Merkel cell carcinoma were divided into two therapy groups at random. Ipilimumab, a checkpoint inhibitor that targets cytotoxic T lymphocyte-associated antigen (CTLA4), and nivolumab, an anti-PD-1/PDL-1 inhibitor, were given to one group.
The other group received stereotactic body radiation therapy together with the drug combination of ipilimumab and nivolumab. Both groups contained a mixture of patients who had previously undergone immune checkpoint inhibitor therapy directed against anti-PD-1/PDL-1 and others who had not.
The objective response rate, or the proportion of patients whose tumors shrank or vanished because of the therapy, served as the trial's primary endpoint for this stage.
Regardless of the treatment group, 100% of patients who had not previously received immune checkpoint inhibitor therapy reacted to the experimental combination therapy after an average of 14.6 months of follow-up, with 41% of patients experiencing a full response. Eight of the 26 patients who had previously undergone anti-PD-1/PDL-1 therapy reacted to the medication, with four achieving a full recovery.
Conclusion
Together PD-1 and PDL-1 play an important role in most malignancies, making this a crucial subject for future study. Since many solid tumors have higher PD-1/PDL-1 expression, PD-1/PDL-1-targeted drugs can be used to treat cancer.
For some patients, immunotherapy holds the potential for increased survival advantages. Therefore, the research and development for immunotherapy based on PD-1/PDL-1 blockades for different tumor types seem to be the obvious next step.