The prevalence of a sedentary lifestyle among the modern-day populace and the increasing inclusion of fast food in the regular diet have led to the onset of fatal digestive disorders across the globe.
Due to various environmental and lifestyle factors, the digestive tract gets affected by digestive diseases, also known as gastrointestinal (GI) diseases. These diseases may range from mild to chronic symptoms.
The signs and symptoms of digestive diseases differ from person to person and from condition to condition.
However, some signs and symptoms are present in most digestive issues. A few common gastrointestinal disease symptoms include:
• Uncomfortable stomach (bloating, pain, or cramps)• Rapid weight loss or weight gain• Constant feeling of nausea• Acid reflux (heartburn)• Diarrhea • Acute constipation• Fatigue• Reduced appetite• Having trouble swallowing
Figure 1 Symptoms of gastrointestinal diseases
Evidently, all gastrointestinal diseases are directly linked to gut health in the human body. Numerous studies over the years have established the fact that overall good health and prevention of various physical and mental illnesses are associated with a healthy microbiome environment in the gut, which is made up of the bacteria in the stomach and intestines.
When a person's gut is healthy, the ratio of good to bad bacteria is balanced. A person may have a weakened immune system and increased bodily inflammation if they have an unhealthy gut. Additionally, with an unhealthy gut, people are more likely to develop allergies, asthma, and long-term conditions like diabetes and heart disease. Consequently, adopting a healthy lifestyle and regularly monitoring gut health is crucial to leading a healthy life. The article goes on to cover a few of the most effective methods for maintaining gut health.
Best Practices for Maintaining Gut Health
1. Regular Intervention with Gastrointestinal Endoscopy Procedure: Endoscopy has been used as a procedure to explore and visualize the interiors of the human body since the early 1800s. In 1805, Bozzini, a German physician, used a 'lichtleiter' to examine the genitourinary (GU) tract.
Over the years, the gastrointestinal endoscopy procedure has witnessed a lot of new technological advancements, especially in the field of robotics and imaging, such as the invention of the charge-coupled device (CCD), the introduction of capsule endoscopy, and robot-assisted endoscopic surgeries.
With the help of these advanced technologies, the diagnosis and supervision of GI diseases have become easier and more efficient. Gastrointestinal endoscopes integrated with video cameras are used to visualize the upper GI tract from the pharynx to the duodenum and the lower GI tract from the anus to the cecum. Gastrointestinal endoscopes not only aid in the diagnosis but can also be used as a therapeutic intervention.
Due to the increasing prevalence of gastrointestinal diseases and technological advancements in the field of robotic-assisted imaging modalities and endoscopes, the popularity and application of endoscopy procedures are increasing globally.
According to the BIS Research report, the global gastrointestinal endoscopy market was valued at $13.40 billion in 2021 and is anticipated to reach $25.75 billion by 2031, witnessing a CAGR of 6.24% during the forecast period 2022-2031.
Find more details on this report in this FREE sample.
Hence, by using these advanced technological solutions, a regular intervention for various symptomatic and asymptomatic GI diseases can be avoided or treated at the right time.
2. Maintaining a Healthy Diet: The good or bad bacteria present in the gut are fed by the food that is consumed. This is a significant distinction considering the gut is home to an estimated 100 trillion microorganisms.
In addition, the gut microbiome affects human digestion, metabolism, and immunological function. When unhealthy bacteria are allowed to flourish, they can cause various health issues such as gastrointestinal irritation, obesity, and mood disorders. A diet that is good for the gut can help maintain or restore microbial equilibrium, which can have a significant impact on overall health.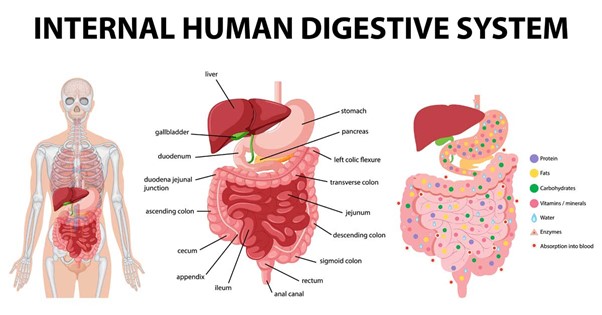 Figure 2 Human digestive system
Today, the typical modern diet consists of processed food that is high in unsaturated fats and sugar. However, beneficial gut flora thrives on fiber-rich food, especially prebiotic fiber, which most people don't get nearly enough of.
Consuming enough fiber is linked to improved digestive health and a lower risk of heart disease, stroke, hypertension, and chronic gastrointestinal illnesses. Various gut-friendly foods are recommended by health experts. Some of these foods include whole foods such as raspberries, green peas, broccoli, chickpeas, lentils, beans, whole grains, and other fruits.
3. Regular Exercise: Apart from a healthy diet, an active lifestyle with sufficient daily physical activities is essential for the proper functioning of the digestive system and a healthy gut.
Most of the bacteria in the gut have a symbiotic relationship with the human body, which means that both microorganisms' health and growth are supported by the overall activity of the body. The microbiomes generate vitamins, fatty acids, and amino acids that are necessary for a variety of bodily processes, including the immune system, digestion, mood management, and more.
Regular exercise speeds up these processes by expanding the variety of microbial species in the gut and promoting the growth of bacteria.
Moreover, exercises stimulate the colon, resulting in more frequent bowel motions. Exercise can also aid in the management of irritable bowel syndrome symptoms.
Conclusion
The human gut is an intricate system. Even though research is still in progress, it is apparent that gut microbiota affects overall health.
A healthy gut supports a robust immune system, a clear mind, enhanced mood, restful sleep, efficient digestion, and the potential prevention of some malignancies and autoimmune disorders. Hence, gut health may benefit from dietary and lifestyle changes.