Evolva (OTCPK:ELVAF) is a Swiss biotech company, focused on producing natural ingredients using precision fermentation. While Evolva is successfully scaling up product revenue and appears to have a reasonably robust product pipeline, gross margins remain low and the company is still at least 2-3 years away from breakeven. In the current environment Evolva's stock price looks stretched, given the company's prospects.
Market
Synthetic biology presents an enormous opportunity due to the extremely large number of potential target molecules. For example, Zymergen estimated that they had a 1.2 trillion USD market opportunity, based on a bottom-up analysis of 20 industries. Expectations should be tempered though, as synthetic biology is still establishing itself as a commercial technology.
The investment required to develop a commercially viable production process needs to be weighed against the potential end market size and margins. In many cases, seemingly attractive markets may not be viable with currently available technology. The pursuit of biofuels in the early 2010s and more recent forays into areas like fragrances represent opposite ends of the spectrum. Biofuels offered an extremely large market, but precision fermentation was not economical. High value molecules like fragrances can be profitable, but there may be a question as to whether the market for an individual molecule is large enough to justify the investment.
Evolva currently has six products, which generally target relatively small markets:
The global market for vanillin was estimated to be approximately 480 million USD in 2019. The global nootkatone market was estimated to be roughly 10 million USD in 2022. The global resveratrol market was estimated to be around 70 million USD in 2020. The global valencene market is estimated to be approximately 5 million USD in 2023. The global food grade L-Arabinose market was estimated to be roughly 20 million USD in 2021. The global market for alternative sweeteners is worth approximately 9 billion USD. The global insect repellent market is expected to reach 8.7 billion USD by 2025.
Most of Evolva's efforts have so far been directed towards developing molecules, but there appears to be an increasing focus on building products around those molecules. The reason for this is easy to see when looking at the size of the nootkatone market. The size of this market probably does not justify the investment required, but Evolva can use nootkatone to develop a differentiated product for the much larger insect repellent market.
Evolva
Evolva is a biotech company that uses synthetic biology to develop and commercialize natural ingredients that currently have a sourcing bottleneck. The company is headquartered in Switzerland and currently has around 50 employees. So far, Evolva have commercialized six ingredients within three business segments:
Flavors and Fragrances – nootkatone, valencene, vanillin, L-arabinose Health Ingredients – resveratrol, L-arabinose Health Protection – nootkatone Other Ingredients – EVERSWEET
The almost limitless number of molecules that Evolva could pursue are prioritized based on a number of factors:
Supported by a secular growth trend (e.g. weight management, blood glucose control, longevity) Differentiated properties Production is feasible Cost competitive Complementary to existing products
Evolva is primarily focused on utilizing existing biochemical pathways from plants to produce existing molecules. This limits the difficulty of development, but often also places commercial production in direct competition with an existing product process, which may already be quite efficient and cost competitive.
Evolva is also prioritizing the development of multiple ingredients along each pathway, allowing them to leverage previously acquired knowledge. This substantially shortens development times and allows IP to be built up in a particular area, which can help to provide a barrier to entry.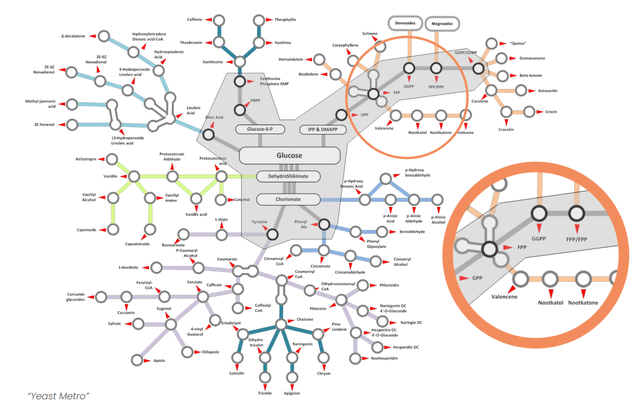 Developing a commercial product involves an iterative process where strains are developed and then their production is assessed. Performance is improved over time, with production eventually moving from the lab, to pilot scale and finally commercialization.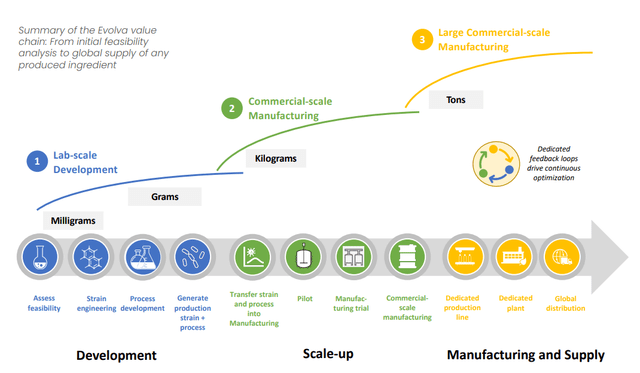 This process requires a broad set of capabilities across areas like biotechnology, analytical chemistry and process engineering. How synthetic biology companies access these capabilities is a key strategic differentiator at the moment. Some companies choose to focus on strain engineering, and leave the remainder of the development and commercialization process to vendors and partners. Other companies are completely vertically integrated, choosing to in source all activities. Evolva falls somewhere in between, performing its own strain engineering and product commercialization, but outsourcing manufacturing. While this significantly reduces capital requirements, it may also result in a high cost structure that limits competitiveness in some markets.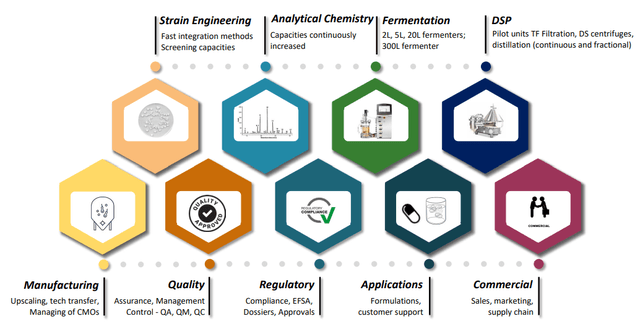 Evolva has the ability to scale its fermentation processes to several thousand liters, at which point production is transferred to a CMO for commercial scale production. During commercial production, Evolva uses fermenters in the 100-250 m3 size range, enabling metric tons of production.
Product recovery and purification is referred to as Downstream Processing (DSP). Evolva has stated that DSP is the most important and demanding part of the production process, as it impacts production yields and ultimately production costs.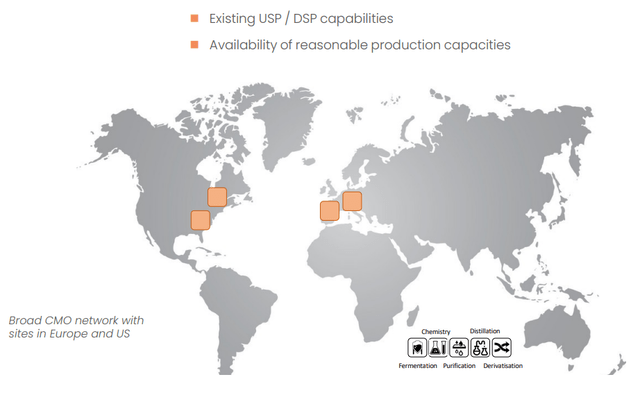 Evolva currently has six commercial ingredients and a relatively large pipeline of molecules at various stages of development. Along with sales growth from existing molecules, this pipeline should be supportive of growth over a multi-year period, assuming these products can be successfully commercialized.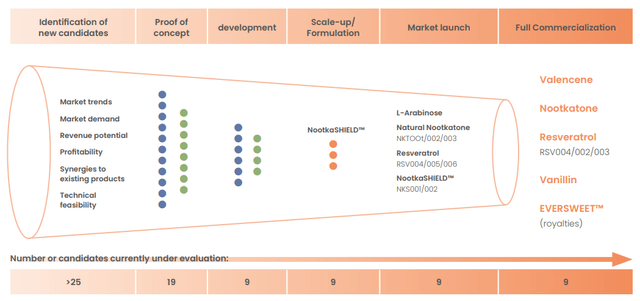 Nootkatone is found in the peel of grapefruit in small quantities. Nootkatone has a citrus, woody and fruity profile which has led to its use in fragrance and flavor applications. Nootkatone is also potentially useful as an insect repellent. Its low concentration makes extraction a difficult and expensive proposition, which has limited its use. Evolva's fermentation process makes production more scalable and less costly, which could lead to greater adoption.
Valencene is found in the peel of oranges, providing a fresh orange character. It is used in a variety of food and beverage products, fragrances and personal care and home care products. Valencene is a precursor to nootkatone, helping to explain why Evolva has pursued both of these ingredients.
Vanillin is one of the primary taste components of vanilla. Synthetic vanillin contributes up to 85% of total vanillin production, and is typically produced from petrochemicals or is chemically derived from lignin.
L-arabinose is a reducing sugar and is often used in the production of savory flavors, or added to bakery products to improve structure and prevent premature staleness. L-arabinose could also be used to support healthy blood sugar levels and weight management.
Resveratrol occurs naturally in a variety of plants, including grapes, peanuts, cranberries and berries. Resveratrol has a variety of beneficial properties and is used in cosmetics and supplements.
Evolva recently partnered with Grace Breeding for the development of nitrogen fixation solutions as a replacement for chemical fertilizers. Grace Breeding has already demonstrated the desired impact on yield and crop resilience during tests on wheat and corn in Israel and Brazil. Grace Breeding's approach uses natural molecules to enable crops to naturally fix nitrogen, substantially reducing the need for chemical fertilizers. The nitrogen-based fertilizer market was estimated to be worth in excess of 118 billion USD in 2021.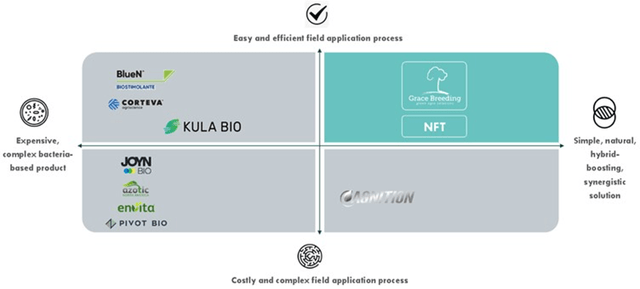 Competition
Evolva is pursuing production of natural ingredients where strain engineering is relatively easy and commercial production is viable. Evolva are also trying to build intellectual property along specific pathways, leading to the development of a range of molecules from the same pathway. While this strategy obviously makes sense, it makes sense for everyone in the industry, leading to a range of companies pursuing production of the same molecules. This has the potential to suppress prices and lead to the rapid commodification of target molecules. To the extent that this occurs, companies must have either a cost advantage or build differentiated products around their ingredients to find success.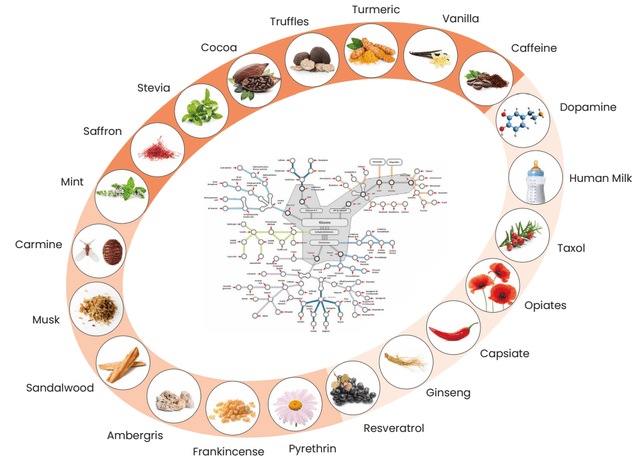 For example, Evolva has highlighted a number of potential target areas, many of which have also been associated with Amyris (AMRS):
Sandalwood Ambergris Carmine Stevia Vanilla Dopamine HMOs
Given that Evolva is outsourcing manufacturing, it is not clear that they will have a cost advantage. As a result, they may need to support margins in the long-run by building products around their ingredient portfolio.
Financial Analysis
In recent years Evolva has shifted from primarily providing R&D services to developing and commercializing their own products. This is a difficult transition, as scaling precision fermentation is an expensive proposition. Evolva's revenues are growing steadily though and the company is progressing towards positive gross profit margins.
Even when profitable production can be established, marketing the product can be resource intensive for an organization like Evolva. This has led to several partnerships which allow Evolva to focus on their core business while still participating in growth. Evolva entered a collaboration agreement for vanillin with IFF in 2020 to help with commercialization. Evolva also has an agreement with Cargill for the production of EVERSWEET. Cargill and DSM have a JV which is responsible for manufacturing and marketing EVERSWEET, for which Evolva receive a royalty.
Growth in 2022 appears to have been driven by vanillin production. Evolva expanded their vanillin production capacity through a third-party contract manufacturing organization.
Commercial-scale production of EVERSWEET began in 2019, but sales have been disappointing so far. This has been attributed to the COVID-19 pandemic, and it is anticipated that sales will accelerate going forward.
Evolva is targeting revenue in excess of 20 million CHF in 2023 with a gross contribution margin of over 20%. Longer-term, Evolva is targeting 30 million CHF in sales in 2024 and 45-50 million CHF in sales in 2025. Evolva is also hoping to reach EBITDA and cash flow breakeven in 2025. These projections appear to be reasonable if current trends continue. Operating losses would likely still be large in 2025, even if cash flow breakeven is reached.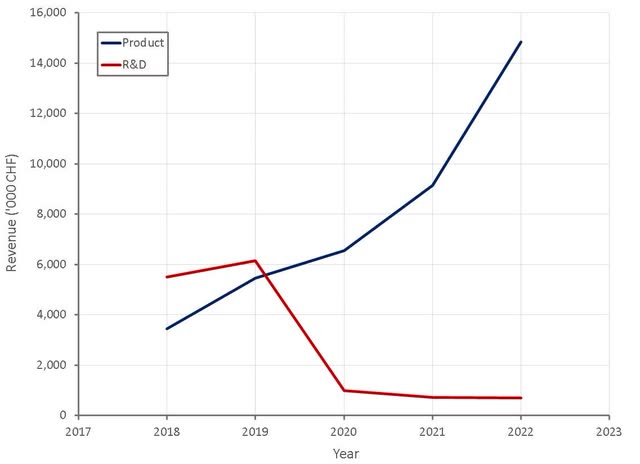 Evolva's Fragrance and Flavor growth was driven by the upscaling of vanillin production. Valencene and nootkatone also saw continuous profitable growth.
Within Health Ingredients, Evolva have been focused on achieving a positive gross contribution margin. Initiatives include market segmentation, value pricing and cost improvements.

Evolva's gross profit margins are improving as the business scales, but remain near zero. Product gross profit margins were positive, although low, in 2022. The main drivers of the increase in profitability were the strengthening of the CMO network, value pricing and cost efficiency initiatives.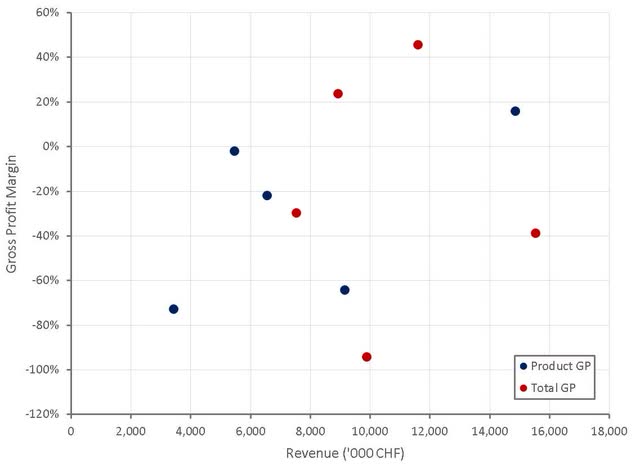 Evolva's operating expenses are also high relative to their revenues. Given the ongoing R&D investment requirements to develop new products, Evolva must grow into these costs, which will take several years.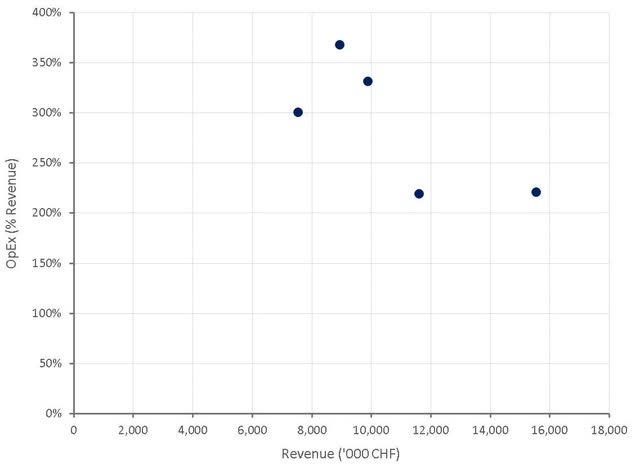 Valuation
In absolute terms Evolva's valuation is probably reasonable given their product revenue growth and pipeline of ingredients, but they must demonstrate an ability to continue improving gross profit margins.
On a relative basis, Evolva's stock looks expensive compared to synbio peers, whose share prices have been crushed over the past 12-18 months. Many of these peers have better businesses, and likely offer better opportunities for investors seeking exposure to the industry.

Editor's Note: This article discusses one or more securities that do not trade on a major U.S. exchange. Please be aware of the risks associated with these stocks.