2-year Treasury surged above 4% following the FOMC meeting
The 2-year may now be heading to around 4.5%
This should result in great stock market volatility
The Treasury rate moved above 4% following the FOMC meeting on Sept. 21, and it may not be over. The FOMC meeting revealed many details and laid out a potential path for monetary policy for the rest of 2022 and 2023. The course was more hawkish than expected and paved the way for a 2-year rate that may soon breach the 4.5% level.
The rate is now just playing a game of catch-up to the December 2023 Fed Funds Futures contract. Since the beginning of August, it has been moving nearly lock step with the December contract, trading about 20 basis points lower.
2-Year Yield Vs. December Contract
If the market believes the FOMC Summary of Economic Projections and rates are heading to 4.6% on the overnight Federal Funds rate, then the December contracts will need to rise to that 4.6% level over time. Based on that current spread between the 2-year and those December contracts, the rate should also approach 4.4% to 4.5%.
Technical Breakout
The technical chart also would suggest that the 2-year could push even higher from its current levels around 4.15%. There is only one technical resistance level, around 4.25%, and no natural resistance until the 2-year gets to roughly 4.65%. This wide range of resistance is because of how quickly rates dropped in 2007 as the market began to price-in the rising risk of a recession.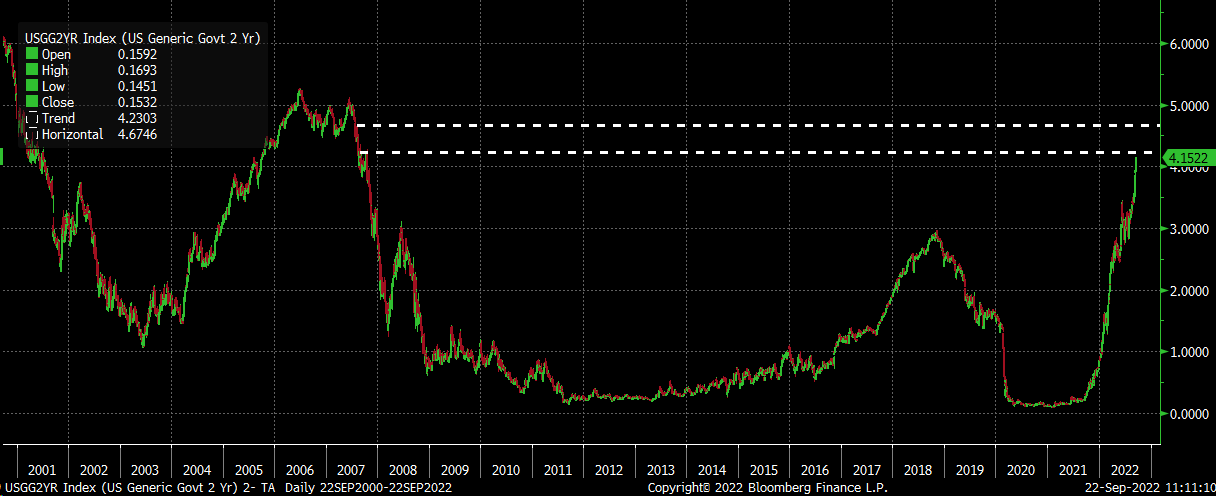 Increasing Volatility
Rising rates at the front of the curve will be bad for stocks overall as credit spreads widen. A ratio of the iShares 1-3 Year Treasury Bond ETF (NASDAQ:) and the iShares iBoxx High Yield Corp Bond ETF (NYSE:) mimics the Markit CDX High yield spread. The ratio compared with the shows that when this high yield spreads rise, the VIX rises, indicating that stock market volatility is picking up.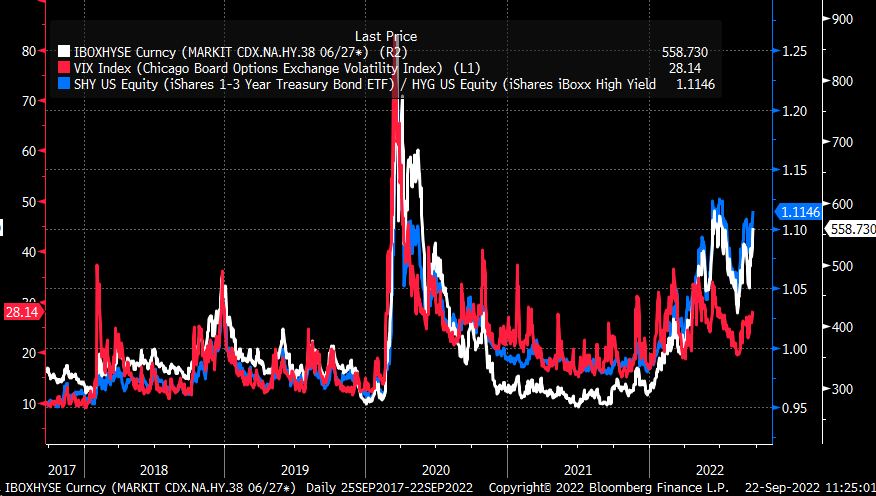 Of course, higher volatility is not good for stocks in general or higher beta names. Unfortunately, these can be names that have already suffered mightily, such as many of the pandemic names that many investors fell in love with.
Many of these stocks are already down sharply, even if their valuations today make more sense than they did about a year ago. If the market does start to see a surge in volatility in the near term, these stocks will not be immune.
Over the next several weeks, it seems likely that the 2-year rate could still be heading much higher. As those rates continue to push higher, it is very likely to spill over into stocks in the form of increased levels of volatility and lower prices.
Disclaimer: Charts used with the permission of Bloomberg Finance LP. This report contains independent commentary to be used for informational and educational purposes only. Michael Kramer is a member and investment adviser representative with Mott Capital Management. Mr. Kramer is not affiliated with this company and does not serve on the board of any related company that issued this stock. All opinions and analyses presented by Michael Kramer in this analysis or market report are solely Michael Kramer's views. Readers should not treat any opinion, viewpoint, or prediction expressed by Michael Kramer as a specific solicitation or recommendation to buy or sell a particular security or follow a particular strategy. Michael Kramer's analyses are based upon information and independent research that he considers reliable, but neither Michael Kramer nor Mott Capital Management guarantees its completeness or accuracy, and it should not be relied upon as such. Michael Kramer is not under any obligation to update or correct any information presented in his analyses. Mr. Kramer's statements, guidance, and opinions are subject to change without notice. Past performance is not indicative of future results. Neither Michael Kramer nor Mott Capital Management guarantees any specific outcome or profit. You should be aware of the real risk of loss in following any strategy or investment commentary presented in this analysis. Strategies or investments discussed may fluctuate in price or value. Investments or strategies mentioned in this analysis may not be suitable for you. This material does not consider your particular investment objectives, financial situation, or needs and is not intended as a recommendation appropriate for you. You must make an independent decision regarding investments or strategies in this analysis. Upon request, the advisor will provide a list of all recommendations made during the past twelve months. Before acting on information in this analysis, you should consider whether it is suitable for your circumstances and strongly consider seeking advice from your own financial or investment adviser to determine the suitability of any investment.